Mexican Consulate donates computers to Galveston College students
Nov 16, 2022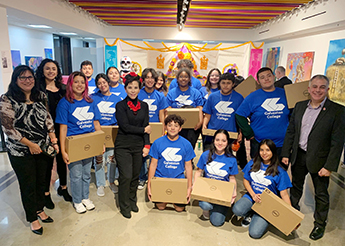 GALVESTON, Texas – The Mexican Consulate in Houston, through the Institute of Mexicans Abroad (IME), donated 15 laptop computers to Galveston College Upward Bound students on Nov. 1 during the consulate's Day of the Dead celebration at their office in Houston.
"We are grateful to the Mexican Consulate in Houston and the IME for providing these much-needed learning tools for our students," said Galveston College Director of Upward Bound, Priselda Perez. "In addition to receiving the laptops, our students were able to travel to Houston and participate in the Day of the Dead festivities at the consulate, which was a wonderful experience for all of us."
The laptops were presented to the students by Consul General Alicia G. Kerber Palma of the Mexican Consulate in Houston and Consul for Community Affairs, Diana Alejandra Vázquez Pinto.
"I was happy to participate in a visit to the consulate's office for the Day of the Dead celebration, and I appreciate the generous gift that I received," said GC Upward Bound student Kaya Zamora. "The laptop has already been used to complete numerous college and scholarship applications, plus schoolwork."
After the presentation, the students had the opportunity to participate in the Mexican Consulate's Day of the Dead event and activities, which included food, music and Day of the Dead dance performances by local artists.
"Attending the event was a good experience and I felt appreciated that my culture was being celebrated," said GC Upward Bound student Jaime Villamil. "I'm grateful that I received a free laptop from the Mexican Consulate. The laptop is going to benefit me while I go to school and help me with my coursework."
ABOUT GALVESTON COLLEGE
Galveston College was founded in 1967 and is a comprehensive community college providing the residents of Galveston Island and the surrounding region with academic, workforce development, continuing education and community service programs.