RN-BSN Bridge Program
*Very affordable *Game-Based Learning *Fully online
Serving all of Texas with online format!
Finish in as little as 9 months!
Celebrating the inaugural graduating class!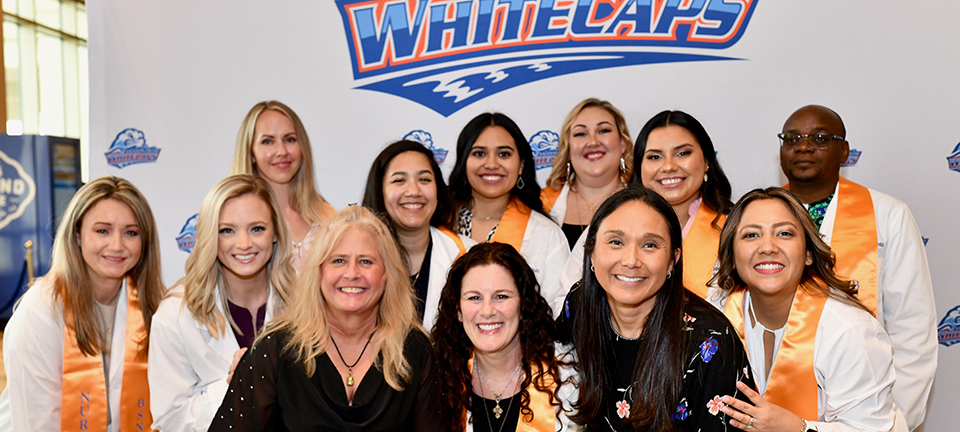 Have you been considering returning to college to earn your BSN?
Galveston College's ADN-BSN Program is affordable, fully online, game-based learning activities, and can be completed in as little as two semesters full-time and four if part-time.
Find out more information
The program's game-based learning initiative has been honored with a grant from Constellation Energy recognizing the BSN Program as Community Champions.
Are you concerned about how you will fit the program into your busy life?
The program supports work-life balance in several ways. Weekly assignments can be completed at your convenience. Practicum hours are faculty-led with flexible, weekly hours. No required face-to-face meetings with the exception of one program orientation. These advantages allow you, the student, the freedom to build a schedule that works.
Applications for the Fall, 2024 cohort are opening November 1!
If you do not have a whitecaps email, please set up a secure account when prompted during the application process to protect your information.
After completing this application, if you have not already done so, apply to Galveston College in the next steps section.
Program Enrollment Options
Accreditation
Effective January 19, 2023, this nursing program is a candidate for initial accreditation by the Accreditation Commission for Education in Nursing. This candidacy status expires on January 19, 2025.
Accreditation Commission for Education in Nursing (ACEN)
3390 Peachtree Road NE, Suite 1400
Atlanta, GA 30326
(404) 975-5000
Note: Upon granting of initial accreditation by the ACEN Board of Commissioners, the
effective date of initial accreditation is the date on which the nursing program was
approved by the ACEN as a candidate program that concluded in the Board of
Commissioners granting initial accreditation.
In keeping with the mission of Galveston College, the BSN program strives to provide ADN prepared nurses access to a high quality, online program facilitating their BSN education. This program is dedicated to providing a collaborative environment focused on teaching relevant content, investing in student success, demonstrating the value of lifelong learning, and creating the next generation of nurse leaders.
The faculty are here to help you build on your nursing foundation. The knowledge gained during this program will assist the student with aligning their knowledge and skillset with those desired for leadership opportunities. The students will learn how to evaluate evidence emphasizing utilization in practice, expand their health promotion skills focusing on individuals, families, groups and communities, increase legal, ethical, and management knowledge preparing them for tough clinical decisions, and expand health assessment skills emphasizing the whole person; mind, body and spirit.
Graduates of the program will be able to:
Describe the role of the BSN prepared RN as it relates to community health promotion, risk reduction, access to care, resource allocation and healthcare disparities.
Use oral and written formats to disseminate information within an interdisciplinary healthcare environment.
Navigate local, regional, and global research findings, through various information technology platforms, relating to nursing practice, disease prevention, and health promotion.
In pursuit of quality and safe patient outcomes utilize EBP guidelines and research findings when collaborating with or leading healthcare teams.
Integrate knowledge acquired from core General Education and collective Nursing courses to inform clinical reasoning when providing nursing care to individuals, families, and communities.
Differentiate scope of practice of nursing roles based on the Texas rules and regulations, Nurse Practice Act, ethical principles, and expectations of maintaining practice related competencies through lifelong learning.
Scrutinize healthcare and regulatory policy that govern nursing practice in contemporary healthcare delivery systems.
Acceptance for admission to Galveston College.
CGPA (Cumulative Grade Point Average includes all college courses attempted) – 2.5 or higher; Science and Nursing GPA – 2.7: Courses in-progress will not be calculated into CGPA or GPA for application purposes. Students are considered ineligible for admission if at the time of application transcripts reflect more than (1) D or F in a core nursing or required core nursing science course. The student is considered eligible if the course is repeated and the student earns an A, B or C in the subsequent attempt.
Unofficial transcripts can be used during the application process. Once accepted, official transcripts from all institutions attended must be sent to the Admissions Department.
Proof of successful completion of an accredited ADN program.
Active unencumbered Registered Nursing license in Texas or a compact state.
Actively employed as a Registered Nurse, Graduate Nurse, or a written plan for clinical rotations. If the applicant has earned an ADN, but has not attempted the NCLEX Examination, conditional acceptance will be considered. If conditionally accepted, the applicant must successfully take the NCLEX Examination by the end of the first eight weeks of classes.
Completion of the prerequisite courses prior to first day of classes. (Exceptions will be considered by the Admissions and Progression Committee after a meeting with the program director to develop a plan of study. ) Applicants can be enrolled in final semester of prerequisite courses at time of application submission.
Two professional letters of reference. At least one should be from a current supervisor. The other can be from anyone speaking to your professional manner.
Valid Texas Driver's license or State ID. (Must send a copy of the front and back)
Current Basic Life Support Healthcare Provider Level CPR card form the American Heart Association.
Preference is given to these three groups of applicants: 1) Has experience as a RN 2) Activitely employed as a RN or GN or 3) Has a job offer to work as either a RN or GN.
Applications for the Fall, 2024 Cohort will open November 1, 2023.
Applicants are encouraged to apply early to have the best chance of acceptance into the program.
Complete applications for program admission will be reviewed at a minimum three times each year. Each completed application received by the published deadlines will be considered by the Admissions Committee.
If a decision on an applicant is made by the committee during the review process, the applicant will receive one of three outcome letters. The possible outcomes include acceptance, conditional acceptance, or denial. If the application is held for review at a future meeting, the applicant will not receive any communication until a final determination is made. All applicants will receive an outcome via email by the posted deadline.
Prerequisites
Course Number

Course Title

CH

ENGL 1302

Composition II

3

MATH 1342 OR

PSYC 2317

Elem. Statistical Methods

Stat. Methods in Psych

3

3

BIOL 1322

Nutrition

3

************

Approved Elective

3

SOCI 1301

Introductory Sociology

3

Total CH 15
*************Business and Technical Writing or Introduction to Chemistry will fulfill this requirement.
Core Curriculum (can be taken as part of the BSN)
Course Number

Course Title

CH

HIST1301

History I

3

HIST1302

History II

3

GOVT2305

Federal Government

3

GOVT2306

Texas Government

3

Creative Arts OR

Language, Philosophy and Culture Elective

3

Elective

3
Fall Semester
| | | |
| --- | --- | --- |
| NURS4340 | Role Transition to Professional Nursing | 3 |
| NURS4320 | Foundations of Nursing Knowledge | 3 |
| NURS4316 | Holistic Health Assessment Across the Lifespan | 3 |
| | | |
| --- | --- | --- |
| NURS3316 | Nursing Research and Evidence-Based Practice | 3 |
| NURS4350 | Leadership and Management | 3 |
| NURS4161 | Leadership and Management Practicum | 1 |
Spring Semester
| | | |
| --- | --- | --- |
| NURS4309 | Promoting Healthy Lifestyles | 3 |
| NURS4202 | Care of Vulnerable Populations | 2 |
| NURS4224 | Legal and Ethical Aspects of Professional Nursing | 2 |
| | | |
| --- | --- | --- |
| NURS4321 | Community and Public Health | 3 |
| NURS4160 | Community and Public Health Practicum | 1 |
| NURS4354 | Nursing Capstone | 3 |
Degree Completion Requirements
| | |
| --- | --- |
| ADN Degree Credits | 57 |
| Prerequisite Courses | 15 |
| Core Curriculum Courses | 18 |
| BSN Nursing Courses | 30 |
| Total for BSN | 120 |
Fall Year 1:

Course Number

Course Title

Credit Hours

NURS4340
Role Transition to Professional Nursing
3
NURS4320
Foundations of Nursing Knowledge
3
NURS3316
Nursing Research and EBP
3
Spring Year 1:

Course Number

Course Title

Credit Hours

NURS4309
Promoting Healthy Lifestyles
3
NURS4202
Care of Vulnerable Populations
2
Nurse 4224
Legal and Ethical Aspects of Prof. Nurs
2
Fall Year 2

Course Number

Course Title

Credit Hours

NURS4316
Holistic Health Assessment
3
NURS4350
Leadership and Management
3
NURS4161
Leadership and Mgmt Practicum
1
Spring 2

Course Number

Course Title

Credit Hours

NURS4321
Community and Public Health
3
NURS4160
Community and Public Health Practicum
1
NURS4354
Capstone
3
See Full-time tab for prerequisite, core, and other information.
As a BSN prepared RN you are poised for a career transition into leadership. As hospitals plan to and apply for Magnet Recognition the system will need to show it is working toward 80% of its nursing staff possessing a BSN degree. Magnet recognition does not require all nurses be BSN prepared, but does require all nurse managers and leaders to have at least a BSN.
The five-year projected demand for BSN prepared Registered Nurses is expected to outpace that for ADN prepared Registered Nurses in Texas. According to the American Association of Colleges of Nursing (AACN), the demand for bachelor, master and doctoral prepared RNs continues to increase. "Having too few RNs with advanced education available to provide care negatively impacts patient outcomes."
Next Steps
Name
Dr.

Kelley Pennell

Title
Director
Room
R-270
Program Area
BSN
Phone

409-944-1374

Email
Admin Support
Mari Macias Ext. 404
| | |
| --- | --- |
| Name | Dr. Geisu Lewis |
| Ext | 224 |