Whitecaps Portal Login Information
Click to Access the Whitecaps Portal

TO LOGIN FROM OFF-CAMPUS:
If you are logging onto the Whitecaps Portal from off-campus, type "gc.net\gc" followed by your student ID number. See the example below.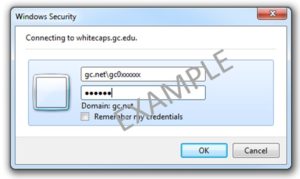 **PLEASE NOTE that if there is any information shown in the user name field, please select "sign in as different user" or "use different account".